By JANET MCCONNAUGHEY Associated Press March 13, 2012 5:20PM
Reprints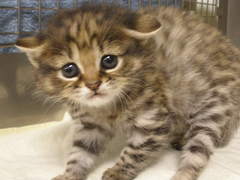 This photo provided by Audubon Center for Research of Endangered Species shows a eight month old kitten named Crystal. A fierce, tiny kitten is proof that black-footed cat embryos can be successfully implanted into housecats and that there are still kinks to be worked out in cloning the southern African species. Crystal is a test-tube kitten, her embryo created by in vitro fertilization and implanted into the womb of a domestic cat which gave birth Feb. 6 at the Audubon Center for Research of Endangered Species. She's also among fewer than 80 black-footed cats in zoos and collections such as ACRES. (AP Photo/Audubon Center for Research of Endangered Species)
NEW ORLEANS
— Seven endangered black-footed cats have been born this year in the United States, but Crystal is the rarest — the first ever born from an embryo fertilized in a lab dish, frozen, and later implanted in a housecat's womb.
"Wow! That's so very cool," said Steven Wing, the American Zoo Association's species survival plan coordinator for black-footed cats, Africa's smallest wildcat and one of the world's smallest felines.
He had learned of the birth Feb. 6 at the Audubon Center for Research of Endangered Species, but not that a different species had been the host mother.
Wing said black-footed cats, which usually have one or two kittens per litter, also gave birth this spring at zoos in Omaha, Chicago, and Birmingham, Ala. Together with Crystal, born Feb. 6 at the Audubon Center for Research of Endangered Species in New Orleans, they bring the U.S. total to 60, he said.
At least two others are pregnant, "but I don't want to count my kittens before they hatch," said Wing, general curator at the Louisville Zoo in Kentucky.
Crystal is cute, with a pink button nose and large round eyes. But even as a tiny, fubsy kitten, a black-footed cat is fierce.
The kitten is also proof that embryos of this dwindling wild species can be successfully implanted into domestic cats, a different species — and that more work is needed to successfully clone them. Cloning would let scientists create embryos from carefully preserved dead animals.
Only an estimated 10,000 of these cats, which get their name from their distinctive black foot pads, still live in the wild. But they're "so nocturnal and so secretive, nobody knows how many are out there. We do know they're very, very rare," Wing said.
Crystal has two brothers, born a year ago. They also are test-tube kittens, but their host mother was a black-footed cat rather than a housecat.
In Africa, the population of black-footed cats is declining because of loss of habitat to grazing and farmland, and dwindling numbers of rodents and ground-nesting birds they hunt. The International Union for Conservation of Nature and Natural Resources lists the species — which grow to only about a third of the size of domestic cats — as vulnerable to extinction. The U.S. Fish and Wildlife Service considers them endangered.
ACRES has been working since it opened in 1996 to preserve endangered cats using advanced methods such as cloning and test-tube fertilization.
Both Crystal and her two brothers grew from embryos created in 2005, using sperm collected and frozen two years earlier at the Henry Doorly Zoo in Omaha, Neb., and eggs from a female housed at ACRES.
(link of the News Sun here = http://newssun.suntimes.com/index.html, very often they have quite interesting articles for us to read!!!)

pour les FR
= article montrant que l'insimination artificielle pour les chats existe depuis quelques temps outre atlantique et autres pays anglo-saxons,(AUS en 1998 et est bien établie à ce jour

)
Ici une portée d'une race (africaine) de chats rare est venue au monde en 2005 en prenant des embryons et en utilisation du sperme qui avait été préservés en 2003 ,
cette fois-ci la fertilisation a était faite in-vitro et les oeufs fertilisés se sont développés dans une mère porteuse n'ayant rien à voir avec la race d'origine!
beaucoup d'autres articles sur le sujet peuvent être vue sur google search et ouvert à tous
[right]


Sujets similaires
---
Permission de ce forum:
Vous
pouvez
répondre aux sujets dans ce forum