Mot à mau
, a comic about Egyptian Mau and
Pensées royales canines
, a comic about King Charles has been published.
Based on pictures (I can't draw), they show Egyptian maus and King Charles commenting our human world...
If you read French, you can order it :
http://carrefour-du-net.com/boutique/F_art_267.html
You can see extracts on my forum http://forum.fondcombe.com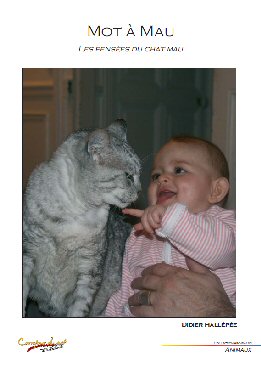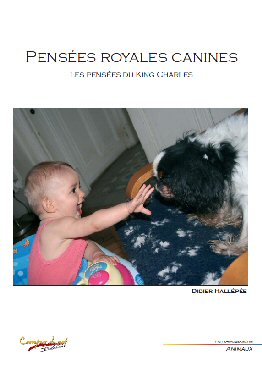 Winston Chruchill Quotation

Les chiens vous regardent tous avec vénération.
Les chats vous toisent tous avec dédain.
Il n'y a que les cochons qui vous considèrent comme leurs égaux.All dogs look up to you.
All cats look down to you.
Only the pig looks at you as an equal.
Jules Renard quotation
Un chat qui dort vingt heures par jour, c'est peut-être ce que Dieu a fait de plus réussi.A cat who sleeps twenty hours a day, it's perhaps what God made as most accomplished.
Lenny Rubenstein quotation

Même si tu viens de casser un vase Ming, ronronne. Normalement, tu devrais être pardonné.When you just broke a Ming vase, purr. You will usually be forgiven
British proverb

Le chat a neuf vies : 3 pour jouer, 3 pour errer, et les 3 dernières pour se reposer
No commentA cat has nine lives. For three he plays, for three he strays, and for the last three he stays
Plutarque quotation

Il paraît que dans les yeux du chat, les prunelles s'emplissent et se dilatent à la pleine lune, tandis qu'elles se contractent au décours de cet astre.It is told that in cats eyes, pupils fill and expand on the full moon and contract on the wane of this star.
Chineese proverb

Celui qui tient le tigre par la queue ne doit pas lâcher prise.He who held tiger by tail must not lose his grip
Charles M. Schulz quotation

Hier, j'étais un chien. Aujourd'hui, je suis un chien. Demain, je serai probablement toujours un chien. Bon sang ! Il est vraiment difficile d'obtenir de l'avancement !Yesterday, I was a dog. Today I am a dog. To-morrow, I'll probably still be a dog. Damned! it's really difficult to get promotion!
Voltaire quotation

Si vous voulez des nouvelles de nos armées: le régiment de Champagne s'est battu comme un lion, et a été battu comme un chien.If you want news about our armies, Champagne regiment fought as a lion and was beaten as a dog.
Dernière édition par dhallepee le Jeu 29 Avr 2010 - 15:53, édité 2 fois
Proverb from Alsace

Femme et chat, dans la maison ; homme et chien, hors de la maison.wife and cat in the house, man and dog outside.
proverb from France

Les chiens sont des chiens mais les chats sont des gensDogs are dogs but cats are people
---
Permission de ce forum:
Vous
pouvez
répondre aux sujets dans ce forum